What we do
We exploit traceable market inefficiencies in financial markets
What we offer
Outstanding risk-adjusted returns across all market environments
How to use
Easy-to-follow services to build a highly diversified & efficient portfolio

Specialized in providing stock market research focused on exploiting academically well-documented market inefficiencies in financial markets!
Explicit trading recommendation on
the outlook for the S&P 500!
Our research combines a Weekly Technical Market Forecast with precise trading advices dedicated to short-term oriented opportunistic traders, as well as long-term investors focused on capital appreciation. It puts a particularly strong emphasis on exploiting the time-series momentum factor and the smart/dumb money anomaly, both of which work extraordinarily well on a conceptually flawed market-cap index such as the S&P 500.
Outstanding risk-adjusted returns across all market environments!
Adding a strategy that captures the momentum factor in a diversified portfolio leads to significantly higher risk-adjusted returns while reducing short- and medium-term risk. We support you in this endeavor by providing four non-correlated ETF Model Portfolios focused on exploiting the time series and cross-sectional momentum anomaly, as well as the diversification premia via a transparent and systematic investment process.
Chart & tools to track and exploit financial market anomalies!
One of the most difficult aspects of investing is generating a trading idea that is investable as well as profitable. We support you in this process by offering proprietary timing tools and indicators to track the time-series momentum, the cross-sectional momentum and the smart/dumb money effect across different markets in a highly systematic and convenient way. Suited for experienced investors searching for highly profitable trading ideas.
Track Record of our Weekly Market Timing Forecast!
Can you afford being in the market without the best timing research available?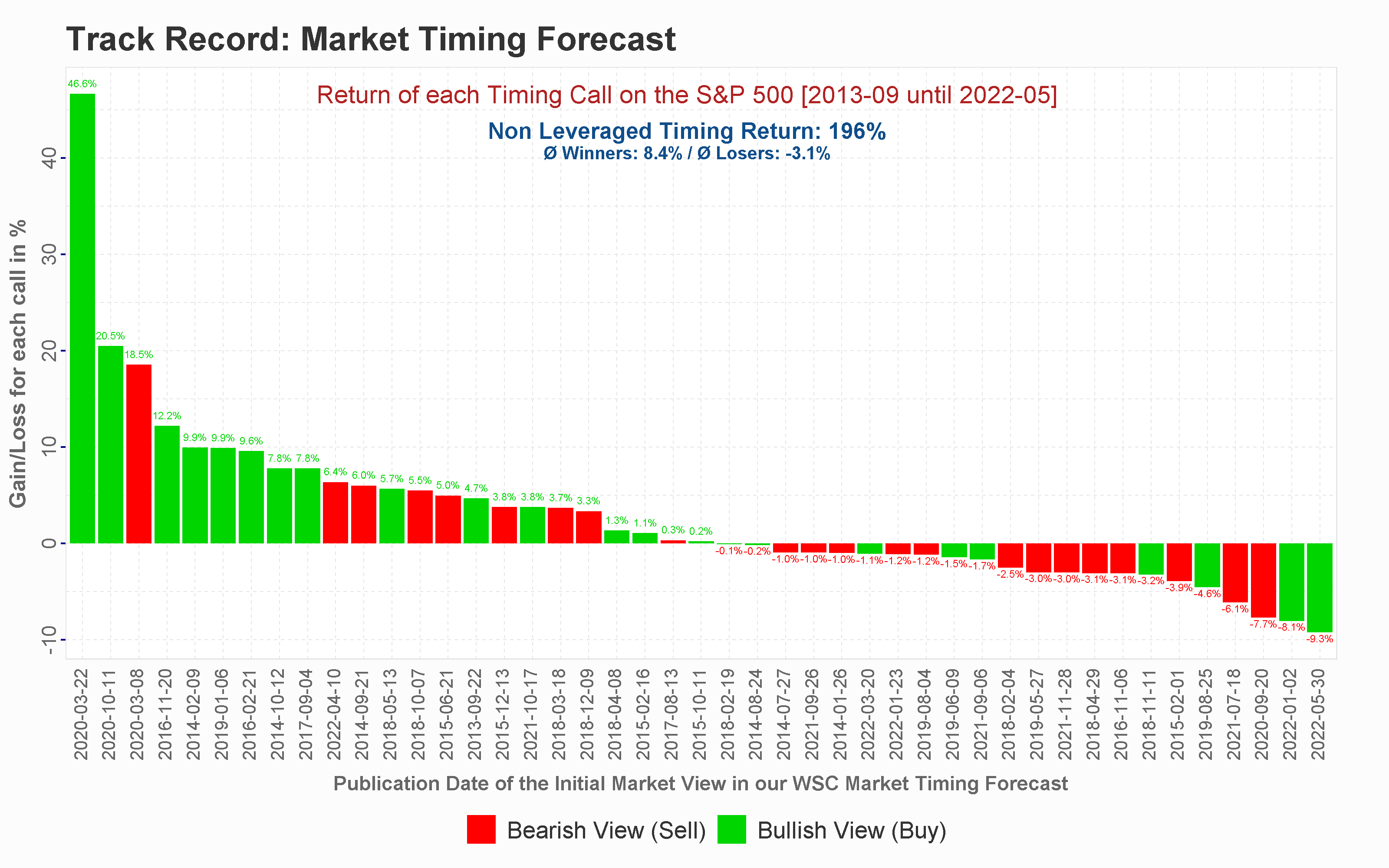 The chart above shows the percentage gain or loss for each timing recommendation on the S&P 500 since 2013. The results are arranged by gains (highest to lowest). The x-axis shows the publication date of the initial trading recommendation in our Weekly Market Timing Forecast, whereas the y-axis shows the percentage gain or loss for that specific recommendation. Since we are specialized in identifying major inflection points, a trading recommendation could last from several days up to several months. In order to prove the ability to identify both, bullish and bearish inflection points, we have color coded them separately.
Results are non-leveraged, meaning that subscribers can even boost results by using options, futures or other leveraged products. All historical Weekly Market Timing Forecasts are available in our member section for your convenience.
WSC Weekly Market Timing Forecast: Relevent Key Calls

Bullish in late March 2020: Corona Crisis

Bearish in early March 2020: Corona Crisis

Bullish in January 2019: Recovery Growth Issues

Bearish in December 2018: Growth Concerns

Bearish in early October 2018: Trade-War

Bullish in mid-May 2018: Volatility Crash Recovery

Bearish in mid March 2018: Volatility Crash

Bullish in early September 2017: Slow-Down

Bearish in December 2015: First Interest Rate Hike

…
Why it works
According to the efficient market hypothesis, prices should always reflect all available information fully. Therefore, no arbitrage opportunities should exist. However, in the last decade, academic studies have provided evidence of several market anomalies that could be exploited in a highly systematic fashion.
Our core beliefs
We believe that no market is perfectly efficient and that therefore, certain market inefficiencies – the existence and persistence of have been documented by both theoretical and empirical academic evidence – can be exploited in a transparent and rule-based way… learn more about us
Why WallStreetCourier?
Regional, sectoral and even asset-class correlations are on the rise. Therefore, building a well-diversified portfolio is almost impossible when markets move in unison. Hence, finding low-correlated and also well-performing investment strategies becomes the most important success factor for building financial wealth… learn more about our philosophy
Market Inefficiency
The term market inefficiency refers to a situation when a security or group of securities performs contrary to the notion of the efficient market theory, where security prices are said to fully reflect all available information at any given point in time.
The Official Source for Bloomberg Professional
Home of the Smart Money Flow Index
WallStreetCourier.com is the official source for the Smart Money Flow Index (SMFI) for Bloomberg Professional.  The SMFI provides both short-term traders and long-term investors with a unique indicator to quickly identify major trend reversals as it called every major trend reversal since we are online! Find out how to exploit the SMFI …
We rely on input factors with an economic rationale and a large body of evidence stemming from the academic literature
WallStreetCourier.com is featured in
Become a member of WallStreetCourier
Technical Market Forecast on the outlook for the S&P 500
4 ETF Model Portfolios
2 Momentum Heat Maps
Dozens of Timing Indicators (including the SMFI)
Indicator Dashboard
Commitment of Traders Charts & Indicators
Commitment of Traders Dashboard
Full data-download (of all our services) in .csv format
3-Day Risk-free Trial for Retail Clients